Most investors when they start to invest are informed about the historic returns for the U.S. stock market.  They are amazed that long-term investors have been rewarded with such strong performance – a nearly 10% annual return.
Stock shares represent ownership in the company in which investors own shares.  Investors should invest in the entire market to insure that they receive the aggregate return of the entire stock markets in which they invest.
A key feature that all investors need to know is that the U.S. stock market has indeed averaged about a 10% annual return since 1926, but it's usually well above or below that mark in any given year.
In fact, the U.S. market annual return as represented by the S&P 500 has only come within 2% of the annual average of 10% – 6 times over this 90+ year history. These 6 years are represented by the gold dots below.
The only way to capture these long-term returns is to be invested for the long term.  This is usually a challenge for investors especially when the stock market has severe downturns – like occurred in March 2020.  During the last 90+ years, the annual return has ranged from a gain of 54% and a loss of 43%.  Quite a range!
Exhibit 1 – S&P 500 Index Annual Returns – 1926–2018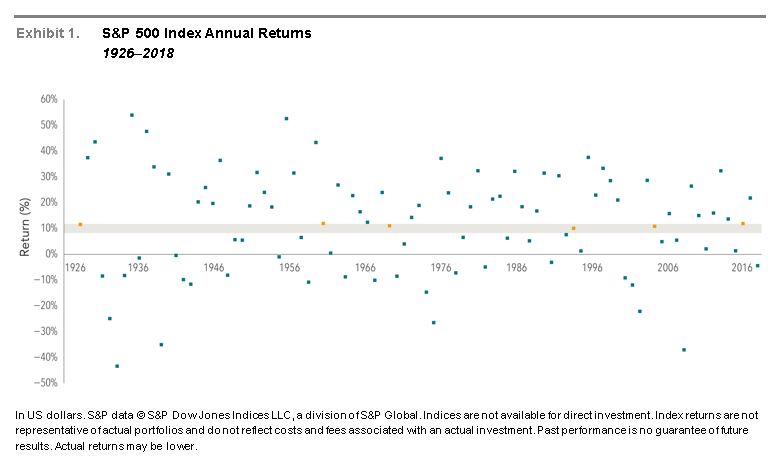 As we have discussed in previous posts, there is no reliable way to attempt to time when one should invest money into the stock market and when you should take money out of the stock market before the decline.  The recent pandemic in March 2020 and the resulting severe market decline caught all investors flat-footed.
The subsequent stock market recovery which began after March 23, 2020 also left far too many investors whipsawed before they could re-enter the market.  Many "market" analysts continued to forecast that the gains could not happen until all U.S. businesses were open and a vaccine for COVID-19 was found.  They were wrong again.
The only way to capture these strong annual returns that the equity markets have historically delivered for investors is to maintain ownership in these companies as we head down the bumpy road of the future.
TUNING IN TO DIFFERENT FREQUENCIES:  Despite the year-to-year volatility, investors can potentially increase their chances of having a positive outcome by maintaining a long-term focus and not succumbing to short-term noise. Exhibit 2 documents the historical frequency of positive returns over rolling periods of one, five, and 10 years in the U.S. market. The data shows that, while positive performance is never assured, investors' odds improve over longer time horizons.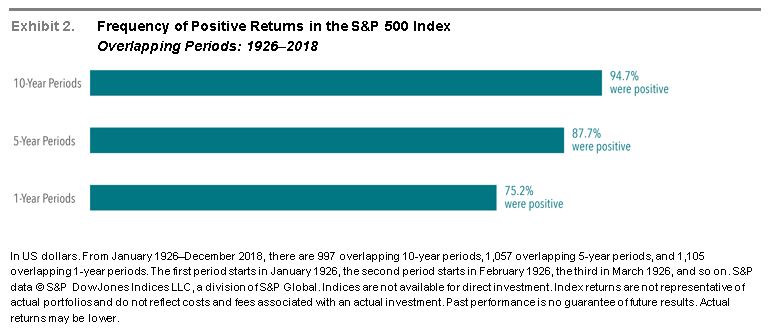 This Data Video on evaluating the range can help investors ride out the ups and downs.
Conclusion
While some investors might find it easy to stay the course in years with above average returns, periods of disappointing results may test an investor's faith in equity markets. Being aware of the range of potential outcomes can help investors remain disciplined, which in the long term can increase the odds of a successful investment experience.
What can help investors endure the ups and downs?
While there is no silver bullet, understanding how markets work and trusting market prices are good starting points. An asset allocation that aligns with personal risk tolerances and investment goals is also valuable. By thoughtfully considering these and other issues, investors may be better prepared to stay focused on their long-term goals during different market environments.  Give us a call to discuss.
Hope you have a great week!
If you know of anyone that you think would appreciate this post, please don't hesitate to forward it on.
Disclosures
 Source: Dimensional Fund Advisors LP. There is no guarantee investment strategies will be successful. Investing involves risks including possible loss of principal. Diversification does not eliminate the risk of market loss.
All expressions of opinion are subject to change. This information is intended for educational purposes, and it is not to be construed as an offer, solicitation, recommendation, or endorsement of any particular security, products, or services.